The whole world is talking about digitalisation
Almost every business article written mentions an element of digitalisation. From smart toasters to robots with artificial intelligence - it feels like digitalisation is the word that interconnects everything. Is that really what it means to be digital, when in the morning the alarm clock reads out the newspaper and on the way to the kitchen the in-house kitchen robot perfectly the sliced bread to the desired toasted degree, while at the same time the car seat is already preheated to the convenient temperature?
So what is digitalisation?
Simply put, digitalisation means nothing more than converting analogue values into digital form. For example, patient records in hospitals are no longer kept in paper form, instead they are stored in a computer. Saves a lot of paper and data can be found much faster when needed.
In the meantime, plenty of terminology have become established around digitalisation, of which we have summarised the most important ones.
Terminology around digitalisation and their meaning: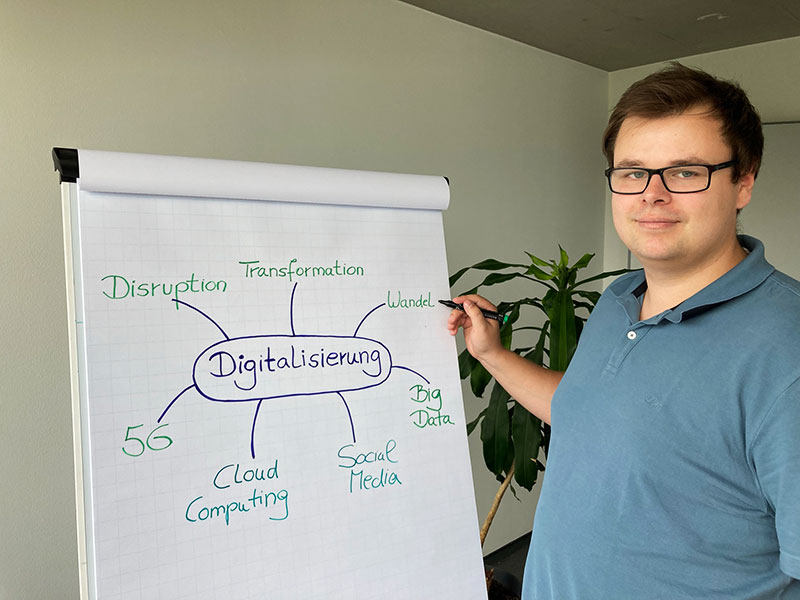 Digital transformation
The continuous development of digital processes that have a lasting impact on our economy and society.
Digital change
Integration of digital technology by companies into their work processes and the impact of digital technology on society.
Digital disruption
Developments that replace or displace existing services, products or business models in certain markets through a digital innovation.
5G
5th generation of mobile communications. Further development of the 4g standard (LTE = Long Term Evolution). Is much more powerful. User data rates of 1 - 10 GBit/s can be achieved, in later expansion stages up to 100 GBit/s. Offers enormous economic benefits through things like smart cities, e-government, connected driving and much more.
Big Data
Huge amounts of data characterised by size, complexity, fast-moving nature and poor structuring. Also called mass data.
Cloud Computing
Cloud computing is the provision of computing resources via the internet, such as servers.
Social Media
Websites or apps through which users can create, share and network content.
Digitalisation has long been a hot topic, especially in politics. In 2020, Germany only finds itself in 12th place in the DESI. DESI is the "Digital Economy and Society Index", which has been published annually by the EU Commission for Europe since 2014. The index is composed of 5 main factors, which comprise a total of 37 indicators and are weighted accordingly:
Connectivity - fixed broadband usage and coverage, mobile broadband connectivity and prices.
Human capital - internet users' competencies and advanced skills
Internet usage - citizens' use of internet services and online transactions
Digital inclusion - digitalisation of enterprises and e-commerce
Digital public services - electronic government services ("e-government")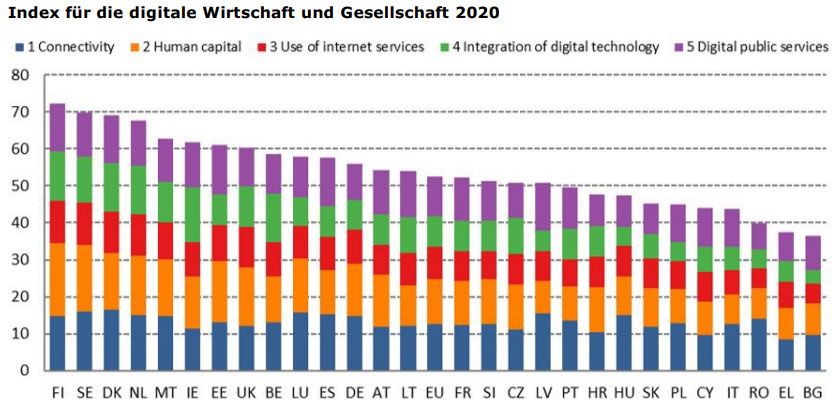 Unfortunately, Germany's 12th place is only very slightly above the average in Europe, and we do even worse in a global comparison. Places 1 to 4 in Europe are occupied by Finland, Sweden, Denmark and the Netherlands, but there is still a lot of room for improvement for Europe as a whole.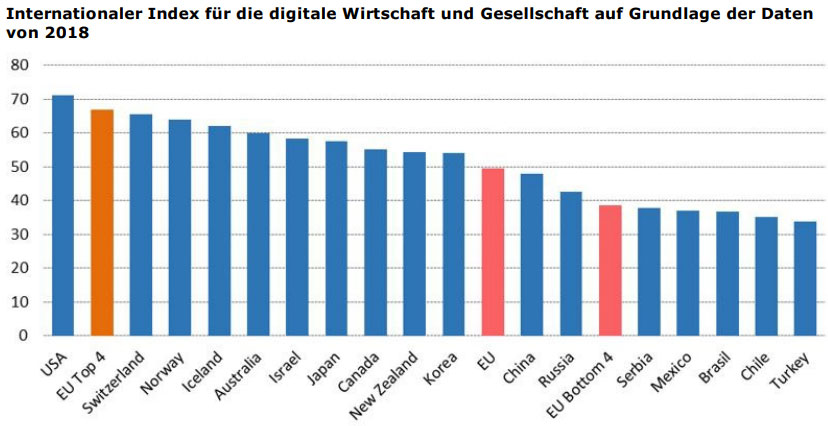 What strategy is Germany pursuing?
What was still uncharted territory in 2013, according to Angela Merkel, is already supposed to advance our everyday lives today. Germany sees the digital transformation as a great opportunity to create more prosperity and a better quality of life for its citizens, while at the same time shaping it in a socially acceptable way and in harmony with its fundamental values. The Federal Government's digital strategy is divided into 5 fields of action:
Digital competence - Investing in people's knowledge, from children in kindergarten to senior citizens.
Infrastructure and equipment - gigabit-capable networks for cities and rural areas by the end of 2025
Innovation and digital transformation - broad and cross-sectoral promotion of Industry 4.0
Society in digital transformation - higher quality of life, with advanced security.
Modern state - all administrative services turning digital
Since many empty promises have been made in the past (see broadband expansion), this strategy and the associated goals should be viewed with caution.
What does digitalisation look like in a variety of companies?
Every process in a company can be divided into 4 levels:
Completely manual
Use of software, but with manual processes
Processes supported by software, with some manual activities
Completely based on software
In principle, the degree of digitalisation can be determined by the number of digitalised processes in the company. The degree of digitalisation is a multi-level system , from entirely analogue to fully digital. Here are the stages in "fast forward":
Level 0
Manual processes, without the support of IT. A company at level 0 does not need IT.
Level 1
Computer-supported work, for example accounting departments. Electronic data processing offers great advantages here, the software is usually simple in design.
Level 2
Information systems to analyse data. Data processing becomes more complex and more logic is built into the software, such as management information systems, which are used to condense and evaluate business data.
Level 3
Internet technology. All employees have access to a digital terminal (PC, laptop, etc.). Communication is digital, using appropriate software.
Level 4
Automation steps in individual departments. Starting from departmental processes that are completely controlled by software, e.g. a ticket system. "Information islands" are abolished, systems are internally networked and data is exchanged automatically.
Level 5
The digital enterprise. All processes are completely data-driven. Targets can be set, and with the help of the digital infrastructure, planning is "calculated". Software uses learned patterns. Production is completely automated; if necessary, communication with customers is handled via "chatbots". Procurement is fully automated, software processes and machines are automatically monitored. Efficiency and productivity are determined almost exclusively by optimising the software.
AI - Artificial Intelligence
Last but not least, aspect that is often associated with the topic of digitalisation. AI - artificial intelligence. There is no such thing as artificial intelligence. AI is just a buzzword. Because no matter how "intelligent" a machine seems, at the end of the day it is "only" a finely tuned algorithm behind it. A machine does not think, it follows predefined instructions. And it does so with unimaginably high speed and absolute precision - but not with its own ability to think. Does this mean that there will never be such a thing as artificial intelligence? We don't know that yet. With ever-increasing computing power, our possibilities are also becoming greater and greater. A very good example is the "JUQUEEN" supercomputer at the Supercomputing Centre Jülich (JSC). With the help of the supercomputer, an attempt is being made to simulate a human brain. This requires an unimaginable amount of computing power and storage space. Scientists can thus explore the human brain from a completely new perspective.
What if one day we could entirely simulate a brain functioning? At what point do circuits and working memory become intelligence? Exciting questions - and perhaps we will get more definitive answers in the near future.
For more information on the topic of digitization, we also recommend these links
https://www.bmwi.de/Redaktion/DE/Dossier/digitalisierung.html
https://www.teamnext.de/academy/artikel/das-digitale-zeitalter/
https://www.bigdata-insider.de/was-ist-digitalisierung-a-626489/