Many conversations, good mood, great demand - Review EuroCIS 2022
EuroCIS 2022 in Düsseldorf is over, the stand has been put away, the minutes of the leads are being taken care of and all our colleagues have returned to their daily business. What is our conclusion? Was the investment and effort worthwhile?
To use the words of the trade fair organisers: "EuroCIS 2022 exceeded expectations. Willingness to invest in technology in the retail sector is higher than ever. Positive mood in the exhibition halls - personal encounters are once again the focus."
This is how the organiser describes this year's trade fair and this could well be our statement about EuroCIS 2022. Although our participation was repeatedly thrown into disarray due to corona, we were well prepared and at the same time full of anticipation to finally speak live and face-to-face with our customers again. We did not know whether the fair would be successful in general and for us in particular. But the official figures speak for themselves: 9,010 trade visitors from 88 countries were counted during the three days of EuroCIS. 345 exhibitors from 33 nations took part on 10,721 m² net exhibition space.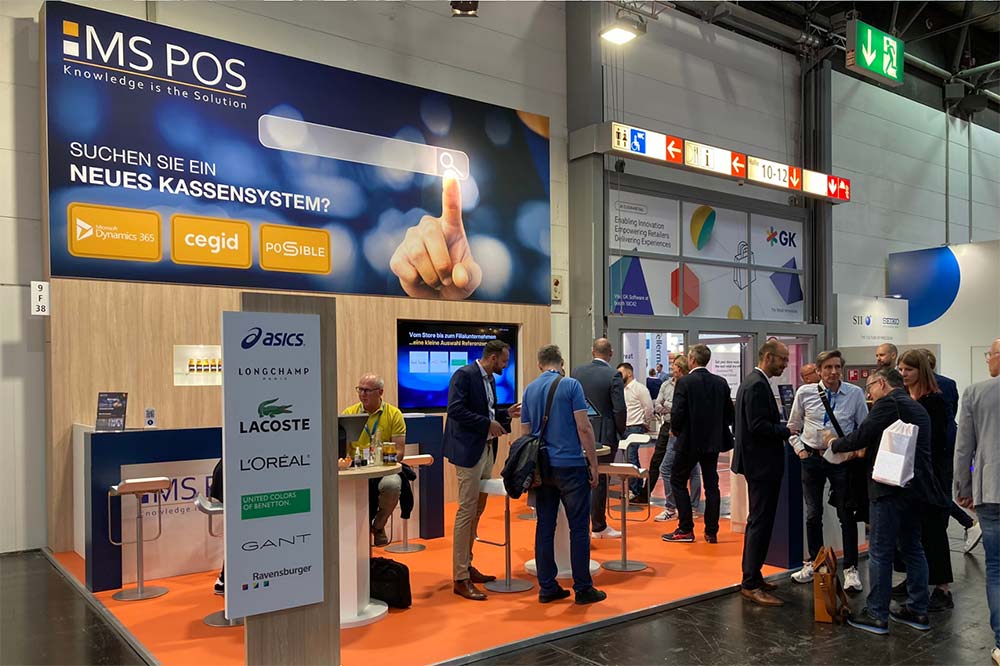 Great demand for retail technology
With our new, open trade fair stand in fresh orange and blue, a few fortifying smoothies and a motivated team, we were in Düsseldorf for three days. In Hall 09, we were able to present three POS solutions this year:
POSsible presented a new version of a flexible and modular solution for the specialised retail trade. The freshly developed version with the latest technology had its premiere at the fair.
With Cegid Retail Y2 , we presented a POS solution that can be integrated into any environment as a branch system. The focus was on the new front end "Live Store". The "Live Store" feature accesses the Cegid Cloud in real time, provides up-to-date information and facilitates the handling of various omni commerce functionalities.
How Microsoft 365 Commerce ensures a seamless customer experience inspired many visitors - no matter when, how and where the client buys, regardless of their end device. The revised unified commerce approach ensures a smooth customer journey across all online and offline channels. Artificial intelligence supports the employees in the branches and automates variety of processes.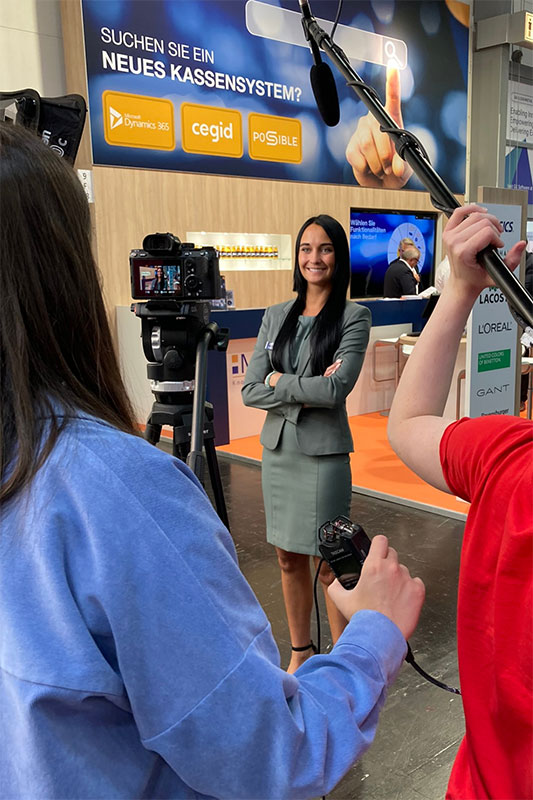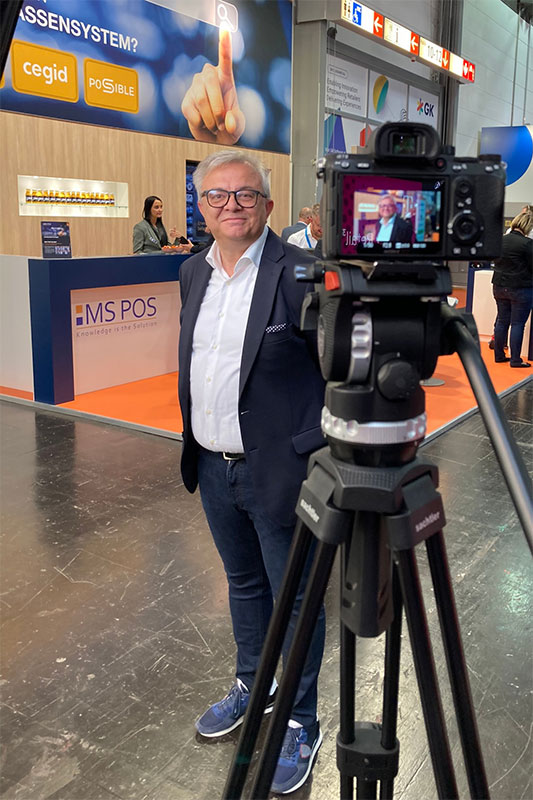 Interview on the situation in retail
What the mood was like at the trade fair and why everything is moving a little slower in Germany, Konstantin Gergianakis, CEO of MS POS GmbH, explains which major topics are occupying the retail sector.
What expectations did you and your team had when going into the fair and were they fulfilled?
KG: In der Tat, wir hatten doch schon ein paar Erwartungen, freuten uns auf ein Wiedersehen und die (hoffentlich vielen) Fachgespräche mit Kunden und Interessenten. Diese Erwartungen wurden tatsächlich übertroffen, das konnte man bereits am Ende des zweiten Tages sagen.
We have the impression that there is a lot of movement in the retail sector. There are many projects underway for which customers are needing a reliable technology solution. Overall, the visitors were very open-minded, people were more open and there were many technical questions. We are happy about the good mood that prevailed here.
Which topics were in focus?
KG: Es ist erstaunlich, wie viele große und sehr große Unternehmen nach neuen Lösungen suchen. Wir konnten viele Termine mit Konzernen vereinbaren, die mehr als 200 Filialen haben und auch international gut aufgestellt sind. Ihre Fragen zielten immer wieder auf ein Thema: Wie kann ich den gesamten Prozess so gestalten, dass ich weniger Personal brauche bzw. mein Personal merklich entlastet wird.
Finding staff seems to be a big challenge?
KG: Eindeutig. Personal ist schwierig zu finden bzw., das darf man nicht unterschätzen, es zu halten. Technologie ist ein wichtiger Benefit, den das Unternehmen als Arbeitgeber bereitstellen kann, auch um sich damit attraktiver zu machen. Man muss den Mitarbeitenden Tools in die Hand geben, um die Arbeit effizienter zu gestalten. Denn letztendlich hilft Technologie, das Kundenerlebnis schöner und persönlicher zu gestalten. Nur wenn die Mitarbeitenden dafür Zeit haben, wenn sie sich weniger mit Verwaltung beschäftigen müssen, haben sie mehr Zeit für den Kunden.
How has the industry survived the restrictions in the Corona pandemic? What is your impression?
KG: Die EuroCIS ist eine Messe für mittlere und größere Unternehmen. Wir hatten insgesamt nur wenige kleine stationäre Einzelhändler getroffen. Was man stark bemerkt ist der Trend zur Konsolidierung, zum Zusammenschluss von Unternehmen. Leider sind doch einige Unternehmen verschwunden, oder aber gekauft oder zusammengeführt worden. Ein verständlicher Weg, um die Überlebenschancen zu vergrößern.
Are there special features of the three cash register solutions presented that were particularly important to the visitors?
KG: Was in der Tat alle drei vereint ist die Internationalität. Danach wurden wir am meisten gefragt. Das passt zum Trend der Konsolidierung.
You don't have a crystal ball, but how do you think retail technology will develop?
KG: Nicht so schnell, wie viele erwarten. Es ist doch eine sehr konservative Branche und das, was die Großen mit automatischen Stores und ähnlichem vorleben, wird bestimmt noch 5-10 Jahre dauern, bis es überall angekommen bzw. umgesetzt ist. Immerhin haben immer mehr Unternehmen heute verstanden, dass es jetzt um die Umsetzung geht. Man hat jahrelang über Digitalisierung, Payment und smarte Technologien geredet, aber die wenigsten haben es tatsächlich konsequent umgesetzt.
Significantly, one notices the "speed" in the acceptance of card payments. It took a pandemic for consumers to increasingly pay by card. In Germany we still love cash, in other countries card is the primary means of payment with over 90% coverage. This shows that Germany is rather conservative, especially when it comes to trust in technology.
Is there any more general feedback about the fair?
KG: Im Namen der Geschäftsführung möchte ich mich an dieser Stelle besonders bei dem gesamten MS POS Team bedanken. In diesem Jahr hatten wir auch Unterstützung von drei Mitarbeitern von unserem Standort in Lodz, Polen. Es war eine tolle Teamarbeit! Ohne den Einsatz und das große Engagement, vor und während der Messezeit wäre das alles nicht möglich gewesen. Darauf können wir stolz sein.